Online Intellectual Property Training Solutions 
Today's dynamic environment is one of accelerating change, dissolving boundaries, and expanding horizons. This, in turn, demands continuous learning, innovation, and value creation. By enabling intellectual property knowledge, support and energy, intangible asset thinking, ipPerformance Group helps organizations transform these challenges into immediate and future opportunities.
ipPerformance Group offers online intellectual property training solutions to help corporate employees develop the skills they need to create, manage, and monetize intellectual assets that result in corporate growth opportunities.
Our online intellectual property training solutions reflect a diverse set of intellectual property assets training lessons that improve basic understanding of intellectual assets to strategic considerations of key stakeholders in areas like marketing, business management, supply chain and commercial relationship management and technology (R&D).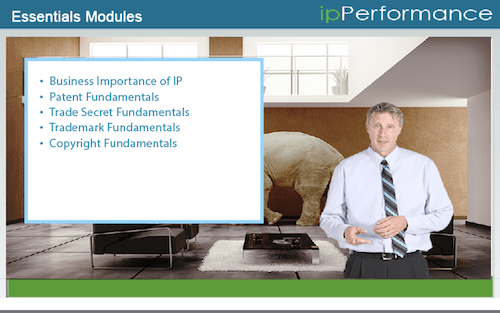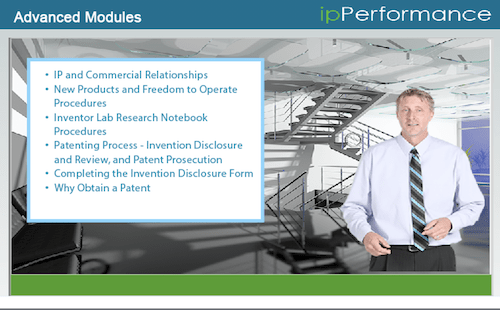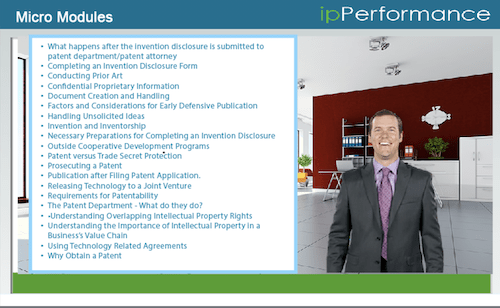 Essentials are courses that provide an introduction to intellectual property assets, which concepts, procedures and proper handling.
Extensions are courses designed for expanding your understanding of IP assets, standard operating practices, and best practices policies. This includes courses that are for audiences establishing intellectual property expert capabilities. These courses are for the people participating or leading efforts to monetize, leverage, and transact intellectual property.
Microlearning modules are designed for the audience with a need to learn a specific topic or task. They are also used as learning refreshers. We cover most topics in less than seven minutes.
Essential
Business Importance of Intellectual Property
Patent Fundamentals
Trade Secret Fundamentals
Trademark Fundamentals
Copyright Fundamentals
Extensions
IP and Commercial Relationships: When do you need an agreement?
New Products and Freedom to Operate Procedures
Exploring Intellectual Property Assets for Research Development & Engineering
Inventor Lab Research Notebook Procedures
Patenting Process – Invention Disclosure, Review, Approval, and Patent Grant
Intellectual Property in Joint Ventures
Handling Intellectual Property in Cooperative Relationships
New Use Patents
Intellectual Property Valuation Methods
Intellectual Property Assets through Strategic Alliance Life Cycle
Intellectual Property for Marketing Advantage: An Introduction to Patent Issues in the Marketplace
Patent Intelligence, Methods, and Analysis
Microlearning
After the Disclosure – What happens after the invention disclosure is submitted to patent department/patent attorney
Completing an Invention Disclosure Form
Conducting Prior Art Studies
Confidential Proprietary Information
Document Creation and Handling
Factors and Considerations for Early Defensive Publication
Handling Unsolicited Ideas
Invention and Inventorship
Necessary Preparations for Completing an Invention Disclosure
Outside Cooperative Development Programs
Patent versus Trade Secret Protection
Prosecuting a Patent
Publication after Filing Patent Application
Releasing Technology to a Joint Venture
Requirements for Patentability
The Patent Department – What do they do?
Understanding Overlapping Intellectual Property Rights
Understanding the Importance of Intellectual Property in a Business's Value Chain
Using Technology Related Agreements
Why Obtain a Patent?