Inventor Rewards and Recognition Program Best Practices
Designing and implementing a robust inventor rewards and recognition program (IRRP) can be daunting. To be successful, this program must motivate your inventor community to increase valuable innovations, prompt new inventors to submit inventions, and improve inventor support of your intellectual property (IP) protection program. Simply establishing a program will not guarantee increased participation—or ultimate success.
This comprehensive report enables you to evaluate:
How do companies reward (award amounts and caps) and recognize for 19 intellectual property achievements?
Which intellectual property achievements are most popularly awarded, and which awards are considered most effective?
What are the most popular purposes companies stated for having an IRRP?
How many awards are offered?
How do IP leaders rate the effectiveness of extraordinary awards?
Which award was identified as the most effective?
What methods are used to communicate and explain awards to inventors?
How do companies promote their IRRP?
What is the total amount paid for an issued patent?
Industry segmentations are available.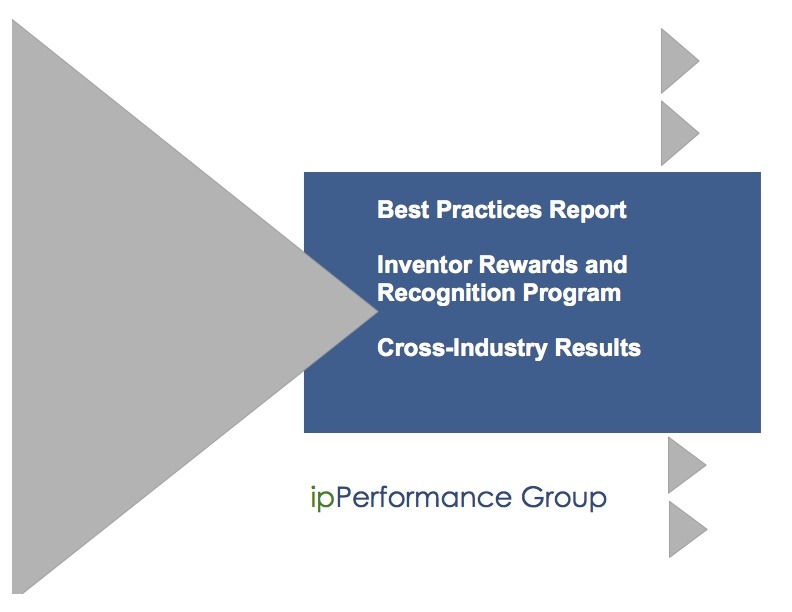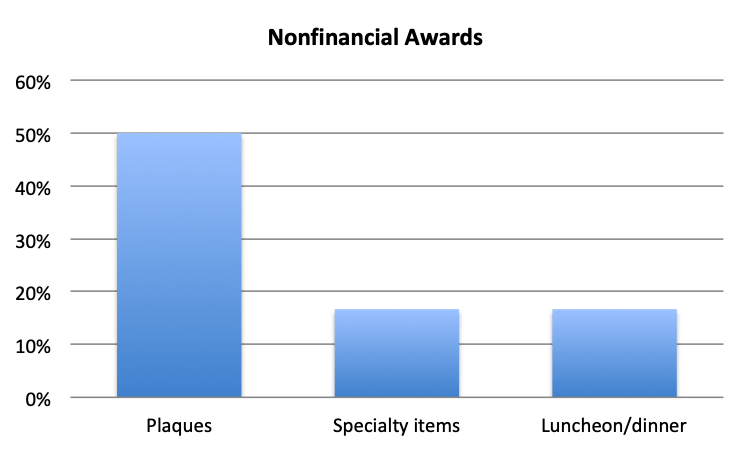 THIS REPORT COVERS
19 IP ACHIEVEMENTS
10 RECOGNITION AWARDS
17 INDUSTRIES
230 + PAGES
Reports are available in a variety of configurations and segmentations such as industry, R&D intensity, annual revenue, and annual patent filing volume.
Best Practices Analysis
Best practices lead to superior performance. This report aims to illuminate the best practices associated with inventor rewards and recognition programs (IRRP). We analyzed vital questions using several IP program performance metrics to provide best practices guidance.
Companies that provide financial rewards for all Utility Patent achievements (3)
Does your company "gross up" your financial awards to cover taxes?
Do you have financial awards structured as long-term compensation for employee retention?
Does your company recognize or reward inventor(s) for significant commercial successes of their invention?
Is there a public display of plaques for the inventors?
Do you have an annual recognition or reward for your most prolific or fundamental inventor(s)?
Where are the locations for your company's recognition achievements?
How frequently does your company review the IRRP program?
Which department manages, monitors, and promotes your company's IRRP?
How are inventors informed about their rewards or recognition?
Is the responsibility of submitting invention disclosures or gaining patents included in R&D personnel job descriptions?
Are R&D personnel invention activities discussed and measured in their annual review?
The performance metrics that we used to evaluate IRRP best practices and which show superior performance are:
Patent efficiency: number of patents filed per million dollars spent on R&D
Invention disclosure activity: the number of invention disclosures (ID) per one million dollars spent on R&D
Inventor participation: the number of invention disclosures per inventor
Inventions per capita: the number of patent applications per inventor
Prospective Inventors: Percentage of R&D engineers engaged in patentable innovation
One million dollars of R&D spent per patent application
One million dollars of R&D spent per invention disclosures
Percentage of internally generated IDs that were filed original patent applications
Percentage of Prospective Inventors who submitted Invention Disclosures
Percentage of Prospective Inventors who are named on patent applications
CONTACT US FOR A COMPLETE LIST OF IP PROGRAM PERFORMANCE METRICS, REPORT DETAILS, OR ORDERING INFORMATION
Best Practices Benchmarking®
Related best practices reports you may be interested in