Completing an Invention Disclosure Form
In most companies, the invention disclosure form is the first step in the patenting process. An Invention Disclosure Form is a formal document that an inventor uses to describe their invention and the background of the invention, which they believe is patentable technology, designs, or processes. This form transmits pertinent technical and business information to the Patent Department. Completing an Invention Disclosure Form is a 15-minute course for R&D employees. It provides the employees with a step-by-step overview of a standard Invention Disclosure Form and how to complete it. It covers the process of invention disclosure, terminology, and essential concepts.
This course can be easily customized to show a company's invention disclosure and relevant examples.
This course covers the following:
Completing an invention disclosure form
Description of each section of the invention disclosure
Description and example of each question and input field.
The purpose and benefits of completing the invention disclosure form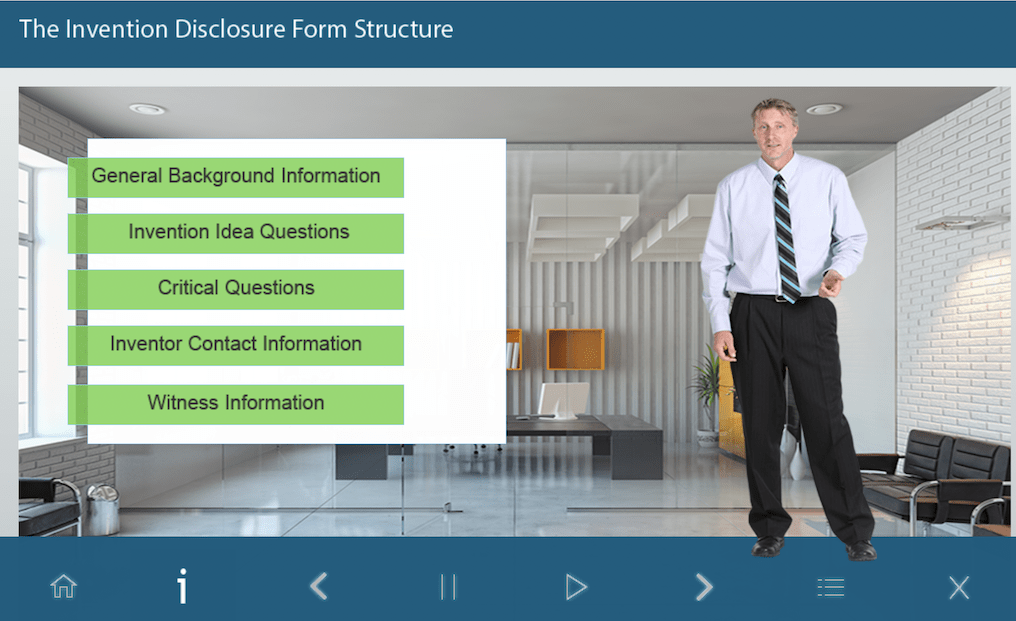 The ipPerformance Training Difference
ipPerformance believes intellectual property training is essential to increasing business value and reducing risks.  We combine seasoned subject matter experts with our instructional design methodology to develop interactive, engaging, and adaptable courses to reinforce an IP-driven culture.