Handling and Protecting Proprietary Information
Proprietary information is the lifeblood of the company, and it represents significant business value. Regularly, employees create and use proprietary information during their work activities. Many employees engage in discussions with contacts outside the company and must understand that they are responsible for safeguarding the company's proprietary information and data.
After completing this course, learners will be able to:
Describe proprietary information and common types
List everyday situations where company secrets can be shared and lost
Describe how the company loses valuable proprietary information
Describe tactics for safeguarding proprietary information
Identify who is the primary source and keeper of technology-related agreements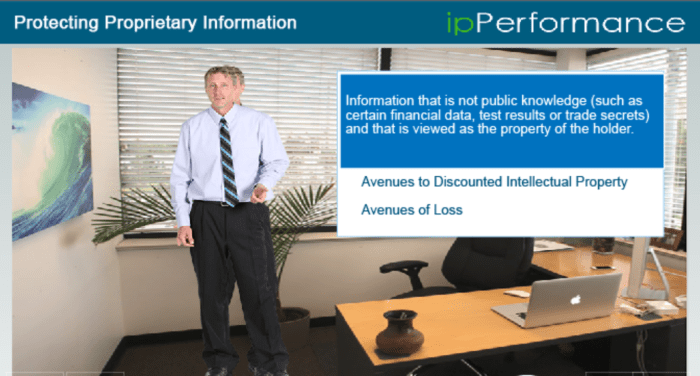 Learn More About ipPerformance Training
The ipPerformance Training Difference
ipPerformance believes intellectual property training is essential to increasing business value and reducing risks.  We combine seasoned subject matter experts with our instructional design methodology to develop interactive, engaging, and adaptable courses to reinforce an IP-driven culture.
Learn how we provide intellectual property training that is relevant and effective.