Intellectual Property Introduction
Onboarding for New Employees
This training course is designed to give all Company personnel a basic understanding of intellectual property, how it is protected, why these assets are essential to the business, proper handling of proprietary information, interacting with third parties, and what is expected of all personnel.
The Intellectual Property Introduction is a 20-minute training course designed to instill a well-rounded understanding of intellectual property in all employees. It teaches essential concepts to new employees. Personnel will leave this course understanding the foundational Company intellectual property policies and who in the business they need to contact regarding questions and concerns.
After completing the Intellectual Property Introduction course, learners will be able to:
Describe intellectual property
Explain the purpose and benefits of intellectual property
List the standard agreements that cover intellectual property
Describe employees' role in protecting proprietary information
Explain how employees engage with third parties when sharing Company proprietary information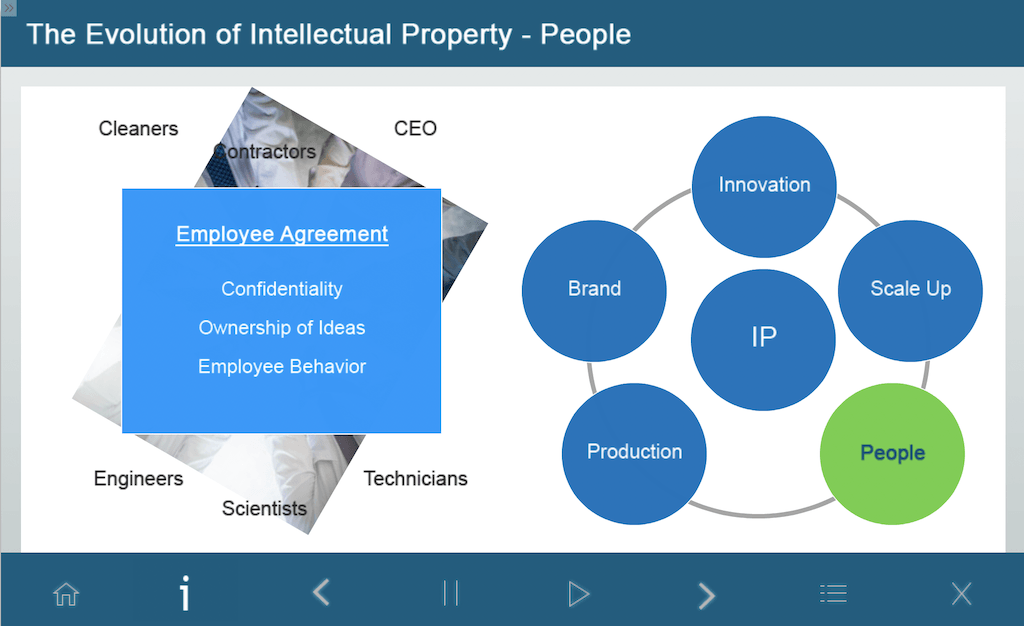 Learn More About ipPerformance Training
The ipPerformance Training Difference
ipPerformance believes intellectual property training is essential to increasing business value and reducing risks.  We combine seasoned subject matter experts with our instructional design methodology to develop interactive, engaging, and adaptable courses to reinforce an IP-driven culture.