Obtaining a Patent
Why, When, and Where
Why do companies need patent protection for their developments? The reason stems from the fact that new technology is the lifeblood of any business. Acquisition of new technology, whether by purchase or internal development, requires a significant investment of financial resources. If something valuable has been discovered, it is subject to others copying it. Once copied, its value, as well as the underlying technology, is reduced since competition minimizes profitability.
The Obtaining a Patent course reviews the key factors that inventors should understand before pursuing a patent. Employees will learn the alternatives to patenting an invention, how the invention is defined by the patent claims articulated in a patent application, business considerations for protection, and jurisdictions to file for protection. This 20-minute course is primarily designed for business and R&D managers. Still, it should be viewed by anyone in the company who needs to learn about intellectual property protection options and their value.
The Obtaining a Patent course covers the following topics:
Why patent protection is needed by inventors and companies
Why and when should an inventor obtain a patent
Patent claims, which are the heart of the patent application.
The use of publication as an alternative to patent protection
The merits of patent protection based on the business model
How to evaluate locations an inventor should obtain a patent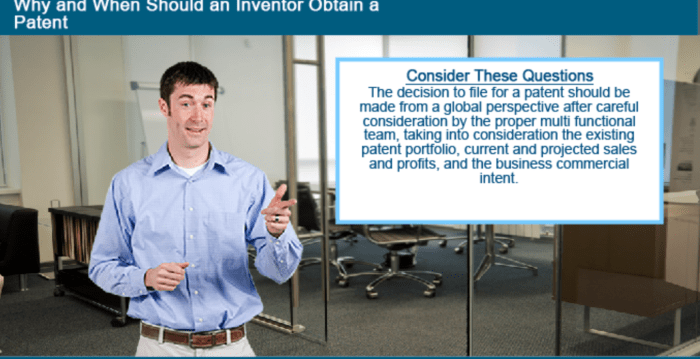 Learn More About ipPerformance Training
The ipPerformance Training Difference
ipPerformance believes intellectual property training is essential to increasing business value and reducing risks.  We combine seasoned subject matter experts with our instructional design methodology to develop interactive, engaging, and adaptable courses to reinforce an IP-driven culture.