What is Intellectual Property Asset Management?
Strategic Intellectual Property Asset Management enables your Company to meet its Corporate Strategy.
By protecting products and markets, supporting innovation and R&D, and contributing to the foundation of new corporate businesses, Intellectual Property Asset Management (IPAM) is a crucial contributor to shareholder value.
Through patents, trademarks, copyrights, and trade secrets, your corporate IP portfolio provides critical legal protection to products and markets and assures the Company's brand equity with customers. This protection allows your Company to recoup its investment in R&D and marketing.
Intellectual Asset Management supports your corporate innovation processes and R&D by allowing new ideas and inventions to be captured by the business as IP and know-how. Better Intellectual Asset Management works to foster innovation by assuring that discoveries will be identified, protected, and rewarded.
Intellectual Asset Management allows your Company to realize additional value from its corporate structure (centralized or decentralized). By heightening awareness of the importance of IP as a corporate asset, your business units can be encouraged to maximize the value of their IP– not only in their own business but so that technology can be used throughout the enterprise.
Intellectual Property Asset Management also provides a foundation for forward-thinking future technology trends. By being keenly aware of your Company's IP portfolio, managers can compare competitor positions to understand and develop long-range plans for moving into new products and market areas.
Benefits to your Company of more strategic Intellectual Asset Management
Improved intellectual property asset management enables companies to go beyond the mere tactical use of IP. Companies can realize more value from their intangible assets with a more strategic view.
Extending market exclusivity
Licensing-out revenue
Proactive enforcement of IP
R&D improvements
Tax benefits
IPAM is a continuous management approach that leverages patents, trademarks, trade secrets, copyrights, know-how, and other proprietary assets to support and improve overall business performance.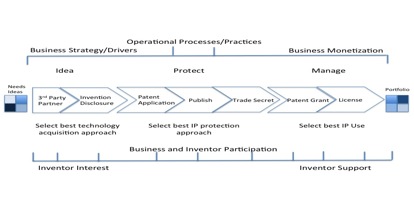 Intellectual Property Asset Management Best Practices includes:
Aligning intellectual property assets to your business strategy and goals
Establish annual assets report to update business management
Conducting an annual portfolio review
Benchmarking against peers and best practices
Classify patents and trade secrets by business use
Conduct competitive technology assessment
Identify critical patents (Strategic importance and commercial significance)
Manage all patent costs (Preparation and prosecution, maintenance, and internal support)
Establish standards for prioritizing disclosures and patent filing decisions.
Maintain an intellectual property assets training program to improve internal knowledge.
Establish an online knowledge center with policies, procedures, and contacts.
Establish an organized database with all intellectual property assets.
Contact us for detailed descriptions of the intellectual property asset management best practices activities.