Why ipPerformance Training
Why Choose ipPerformance  Intellectual Property Training Solutions
Compare, and you'll see—ipPerformance offers the most flexible and cost-effective intellectual property (IP) training courses. We've applied years of IP experience to develop an approach that is: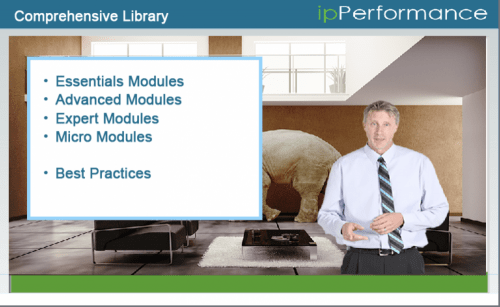 Accessible
Our intellectual property training courses run on almost any computer that can connect to the internet. Courses do not require special hardware or software or a fast web connection.
Accountable
Our powerful administration and tracking tools enable you to securely monitor employee usage, completion, and comprehension in real-time and manage automatic email "reminder" messages.
Comprehensive
Our library includes a wide range of intellectual property training courses, all written by experienced practitioners. If you don't see what you need, we'll work with you to create it!
Cost-Effective
ipPerformance's affordable pricing model can work within budget and resource constraints to help implement a cost-effective IP training solution that can be leveraged across the organization.
Customized Training
If you need customized intellectual property course content, our approach enables you to modify any part of our courses to create audience-and location-specific lessons.
Interactive Courses
ipPerformance intellectual property training courses feature relevant business scenarios, interactive quizzes and exercises, and final tests to confirm comprehension.
Interoperable
Our intellectual property training courses conform to the AICC and SCORM standards — the industry standards for e-learning interoperability. Training courses can be launched and tracked from any learning management system (LMS).
Targeted
Our extensive intellectual property micro-learning courses provide your employees with topic-specific, on-demand reviews, lesson refreshers, and audience-relevant content to improve employee attention and results.
Contact Us
Help your employees become more IP Aware and disclose high-value inventions
The ipPerformance Training Difference
ipPerformance believes intellectual property training is essential to increasing business value and reducing risks.  We combine seasoned subject matter experts with our instructional design methodology to develop interactive, engaging, and adaptable courses to reinforce an IP-driven culture.