Comprehensive Invention Harvesting, Selection, and IP Protection Decisions Best Practices
Increasing the number of high-value inventions, better quality, complete invention disclosures, and improving or maintaining inventor interest and support of the patent process are critical challenges in today's intellectual property-driven companies.
The Invention Harvesting, Selection, and IP Protection Decisions Best Practices report teaches us that most companies use multiple methods to identify and capture inventions, yet only a few are considered adequate. Companies balance driving an increase in invention disclosure submissions while managing quality. Multiple vetting practices are standard operating procedures, including review procedures before invention disclosure submission, prior art searches, and multi-role patent review committees that meet regularly.
In this Invention Harvesting, Selection, and IP Protection Decisions Best Practices comprehensive study, innovation-driven companies shared effective invention harvesting methods, invention disclosure review, and selection practices, use of prior art searches, IP protection decision factors, patent review committee responsibilities, patent portfolio pruning criteria, and performance metrics.
This Invention Harvesting, Selection, and IP Protection Decisions Best Practices report enables you to evaluate the following:
Primary and most effective invention harvesting methods for capturing high-value inventions
Pre-invention disclosure submission review practices
Frequency of accelerated patent preparation and filing
Frequency, timing, and responsibility of conducting patent prior art searches
Assessment methods and criteria for intellectual property protection decisions
Stakeholders participating in intellectual property protection decisions
Use of intellectual property valuation scorecards
Key strategies and factors used for patent portfolio pruning and patent divestment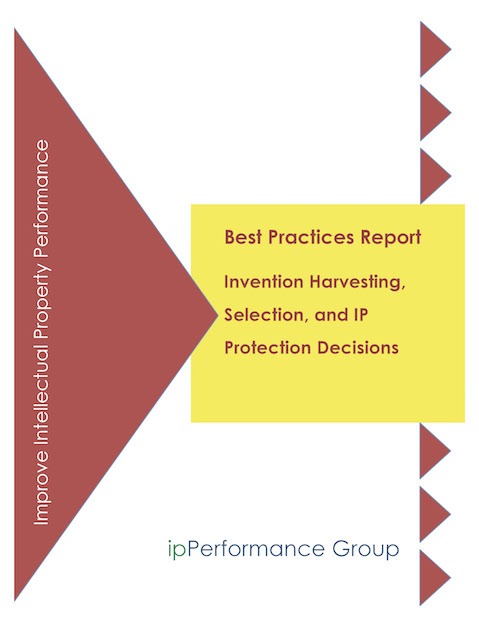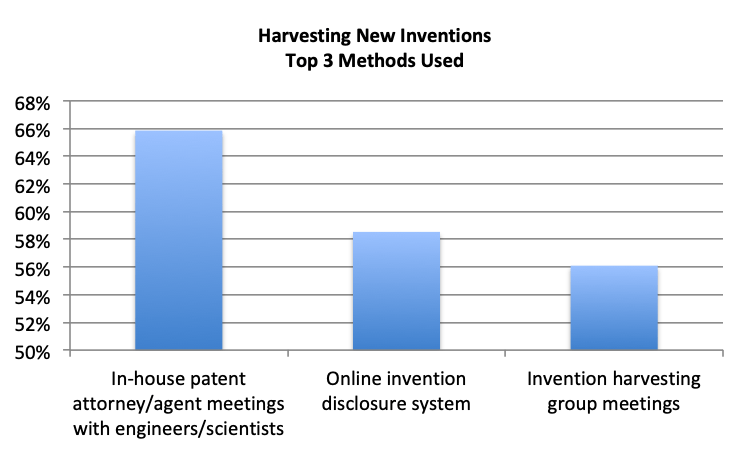 Reports are available in a variety of configurations and segmentations such as industry, R&D intensity, revenue, and patent volume..
Best Practices Analysis for Invention Harvesting
Best practices lead to superior performance. The Invention Harvesting, Best Practices Analysis aims to illuminate the best practices associated with invention harvesting. ipPerformance analyzed several vital practices and IP practices performance metrics to provide best practices guidance.
Following are the invention harvesting practices analyzed:
Inventors conduct formal and informal peer reviews before finalizing and submitting an invention disclosure.
A formal idea evaluation and approval process is conducted before an inventor prepares an invention disclosure form.
Invention ideas/disclosures are approved before inventors submit invention disclosures for formal review and file a decision to the patent review board or legal department for review.
Companies that have clear guidelines (documented) for selecting what should be patented.
Companies that stated an online ID system, a paper invention disclosure form, or an email with an invention idea is their dominant method of harvesting new inventions.
Companies that state IP reviews at stage-gate exits, in-house attorney/agent meetings with engineers/scientists, patent liaison meetings with engineers/scientists, or invention harvesting group meetings are methods used to harvest inventions.
Companies that have inventors present their invention idea/disclosure at the Patent Review Board (PRB) meeting.
Companies that use specific hard-and-fast quantitative criteria (scorecard) to guide their patenting decisions.
The performance metrics that we used to evaluate invention harvesting best practices and which show superior performance are:
Percentage of invention disclosures (IDs) converted to priority patent applications
R&D spending per ID
R&D spending per patent application
Percentage of patent applications scored as commercially significant or of substantial value.
Percentage of sales protected by patents rights
Percentage of products or services protected by patents rights
Percentage of IDs of strategic importance/high commercial value
IDs per R&D spending
Patent applications per $1mm R&D spending
CONTACT US TO LEARN MORE ABOUT THE REPORT OR GET THE ORDERING PROCESS
Best Practices Benchmarking®
Related best practices reports you may be interested in
Learn how we provide intellectual property best practices that you can use to improve your operation.