Corporate Intellectual Property Law Department Practices Report
ipPerformance newest report covers a multitude of IP department practices including, billing/fee arrangement, costs, staffing, work flow cycle-time, operational locations, patent committees, patent search approaches, IP task outsourcing, licensing responsibility, and outside counsel preparation and prosecution responsibilities.
We learned in this study that most companies' have a variety of professional and non-professional functions that spend a significant portion of their time on patent application preparation and prosecution activities. Companies use multiple fee arrangements with their law firms. Patent searches are conducted prior to most patent filings. These results are elaborated and many other facts are reported in our new report on Corporate Intellectual Property Best Practices. Over 60 charts are included in the report.
This comprehensive report enables you to evaluate:
IP Department Costs and Operational Efficiency
IP Department Staffing Size, Ratios, and Structure (Professional and Non-Professional)
Law Firm Fee and Billing Costs and Arrangements
IP Department Internal Client Charged Approach
Operational Locations – U.S. and International
Foreign Outsourcing: Tasks Being Outsourced
Inventor Rewards Program and Financial Amounts
IP Law Department Licensing Responsibility
Patent Committees
Patent Search Use
Foreign Filing
Industry focused reports are available for:
Chemicals
Consumer Products
Electronics/Communications
High-Technology
Pharmaceuticals/Biotechnology
Software and Information Services
Machinery/Manufacturing/Equipment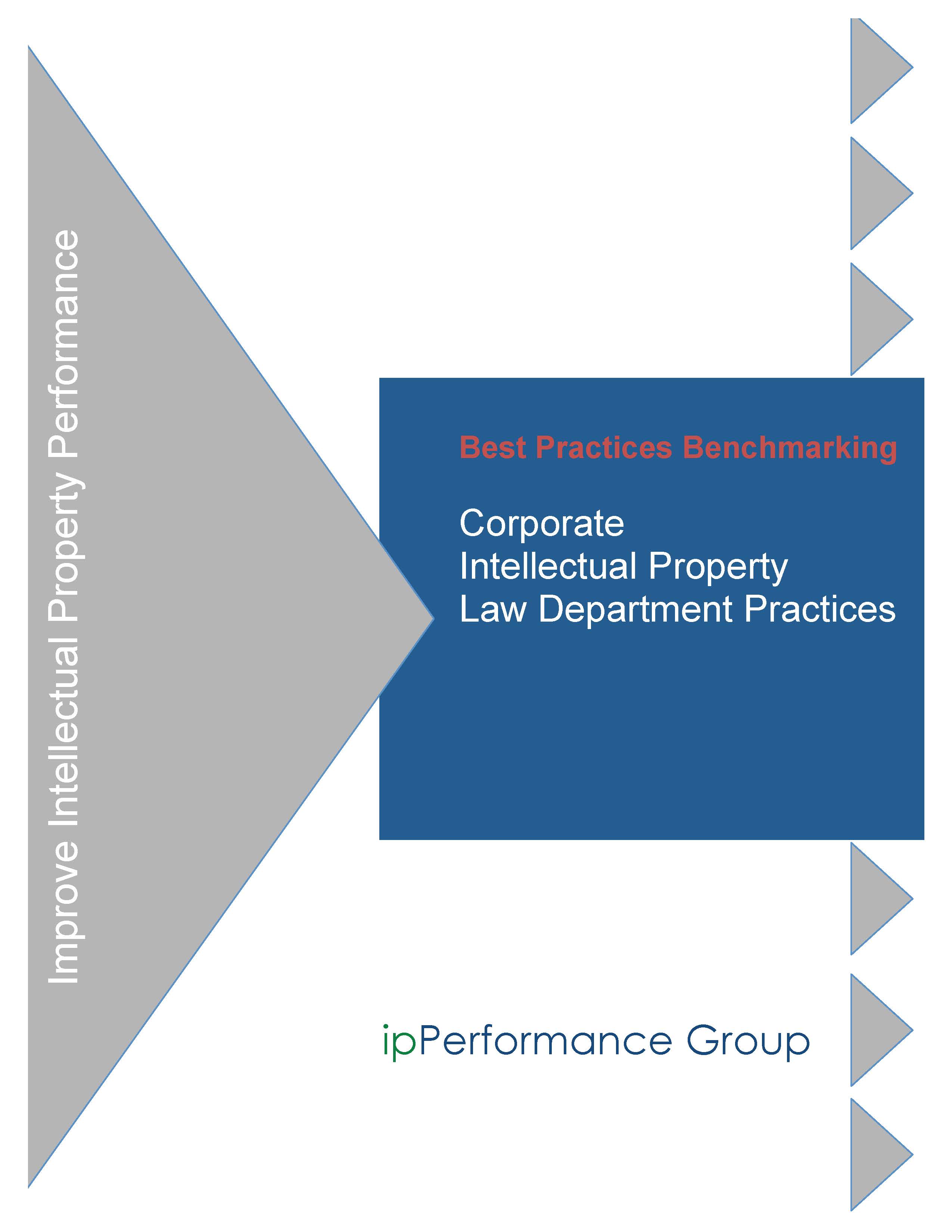 Best Practices Analysis for Intellectual Property Law Department
Best practices lead to superior performance. The purpose of the Best Practices Analysis is to illuminate the best practices associated with intellectual property operations. We analyzed a number of key practices and IP program performance metrics to provide best practices guidance.
Following are the intellectual property operations practices analyzed:
How are most of your IP attorneys assigned?
Average docket size of U.S. applications: per in-house attorney/agent
What is the estimated percentage of time that the entire in-house attorney/agent staff spends on the preparation/prosecution docket?
Are patent operations centralized or decentralized?
Does your company use a patent committee to review invention disclosures and select disclosures for which to pursue patent protection?
In the past fiscal year, did your company's IP department use external benchmarks to manage performance?
Was there an annual goal for the number of patent applications to be filed by your company?
Was there an annual ceiling on the number of patent applications that would be filed by your company?
Does your company charge internal clients (business units, divisions, etc.) for in-house legal work?
How do companies allocate patent prosecution work to their U.S. firms?
Company use of data analytics (Examiner data, Art Unit data, etc.) to drive patent prosecution strategy
Does your company have a financial reward (cash or stock) program for U.S. inventors?
Have you adopted alternative billing arrangements?
The ratio of in-house FTE IP professionals to support staff
The performance metrics that we used to evaluate Intellectual Property Law Department best practices to show superior performance are:
Patent efficiency: number of patents filed per million dollars spent on R&D
Invention disclosure activity: the number of invention disclosures (IDs) per million dollars spent on R&D
R&D dollars spent per patent application
R&D dollars spent per ID
Percentage of internally generated IDs that you filed original patent applications
R&D dollars spent per Patent Attorney
Patent applications per Patent Attorney
Patent applications per Patent Attorney/Patent Agent
IDs per Patent Attorney
IDs per Patent Attorney/Patent Agent
IP operations expenses (million dollars) per IP Attorney
IP operations expenses (million dollars) per Patent Attorney